It's nearly Thanksgiving! What will be on your table? Do you celebrate? If you do, and you don't know what you're doing, bringing, or making, maybe I can help? I've rounded up a few deals and meals that could give you some ideas for the big day~
Dine In
Stripsteak, in the very central International Market Place, will offer a special Thanksgiving menu. They will be serving Black Truffle Turkey Breast. 'Nuff said.
If you want the simple and standard Thanksgiving Dinner, Duke's Wakiki offers a $29 set dinner. Turkey, stuffing, mashed potatoes, broccoli and cranberry sauce.. Oh, and pumpkin pie, of course! Not a bad choice in my book.
100 Sails Restaurant & Bar has a number of Thanksgiving options, from breakfast and brunch/lunch, to dinner! The menu is extensive, so definitely worth checking out!
Restaurants at the Halekulani Hotel will be open with a variety of options for Thanksgiving. The popular House Without a Key offers a four-course Thanksgiving meal, but will have the regular menu available as well. If I may add, their winter-spiced kabocha pumpkin soup sounds absolutely delicious! Orchids Restaurant has Thanksgiving themed buffets going for both brunch and dinner, with lots of local flavors embedded into traditional dishes. La Mer will also be open, however only featuring its regular menu.
Side Street Inn might be nice if you want a heaping amount of Thanksgiving food, but don't need to spend a ton of money on it. Their buffet is quite extensive for the price of $48, in my personal opinion! To give you an idea, roasted turkey, shoyu pork, misoyaki chicken are among five other main dishes.
Take Out
Foodland comes in with a helping hand– They have three different sets of pre-made holiday dinners that only require heating up! Definitely pre-order now if this is what you're going for~ My recommendation is the Premium Turkey Dinner because it comes with 24 oz. of Lilikoi Glazed Kabocha & Moloka'i Yams!
Don't forget about Times Supermarket, as their Holiday Dinner options are a good deal. Only bummer to me is that they make it hard to choose between the Turkey Dinner and Ham Dinner.. Their Ham Dinner comes with cheesy au gratin potatoes! However, their Turkey Dinner has Classic Cornbread Stuffing.. How does one even begin to choose between those!?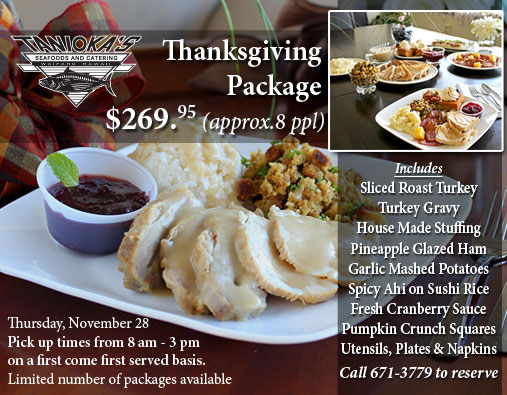 A more surprising spot for a Thanksgiving meal is Tanioka's Seafood & Catering! Their hefty price of a $269 meal comes not only with the normal Thanksgiving dishes, but also an entree of spicy ahi on sushi rice. I'll be honest, that alone makes me want to order from them!
Both Dine In & Take Out
My love, my life, Zippy's. They have a few in-restaurant dinner options for Thanksgiving: Roast Turkey & Baked Ham Combo, Roast Turkey Dinner, Baked Ham with Rum Raisin Sauce Dinner, and Grilled Samon with Crab Artichoke Sauce. Can you say YUM?
+ They're offering three different package options for take-out Thanksgiving Dinner. Go big, or go home! They even made a video for re-heating instructions, which you can check out below. Love this use of technology.
M.A.C. 24/7 has a Thanksgiving Brunch Buffet going from 8AM-1PM. Besides usual dishes like roasted turkey and country potatoes, the restaurant also whips up some local takes on some classics, like apple + portuguese sausage stuffing and honey glazed ham with pineapple-mango chutney!

+ They also have their Turkey on the Run option, which has a set menu for $175 that buyers can pick up and take home on the day of Thanksgiving. The menu contains all the main dishes, even pumpkin pie!
There's no diner finer! Big City Diner will be open on Thanksgiving, serving up an Oven Roasted Turkey Special for $19.99. Baked Cane Sugar Cinnamon Sweet Potatoes? Grandma's Mauna Loa Macadamia Nut Pumpkin Crunch? Count me in!

+ Want to take out? Their Thanksgiving Big Meal To-Go is just $99.99! It includes the two sweets mentioned above, along with a lot more traditional dishes– and turkey, of course!
Want to go upscale? The Kahala Hotel & Resort has Thanksgiving brunch & dinner options at its restaurants, Plumeria Beach House and Hoku's. The dinner course sounds especially enticing, with its Chilled Truffle Butternut Squash Soup and Pumpkin Chocolate Crémeux. A bit more expensive, but with those dishes? Worth it, for sure.
+ Want a fancy takeout option? For $225, take a turkey and all the fixings to go! It's a touch homier with dishes like Pumpkin Pie Crumble and Sautéed Nueskes Bacon Brussels Sprouts, but definitely sounds just as good!
Just Desserts
Not really a pie person? Even though I am, I love a good cake. Liliha Bakery makes a pretty cute turkey cake for the big day. If not, maybe stop over for some cocoa puffs? Those are always a hit!
Classic, classic, classic. Hawaiian Pie Company serves up some delicious pies, perfect for bringing to Thanksgiving dinner. Personally, I'm always down for a combo pie of my two faves: Pumpkin Custard Pie.
I had no idea The Pig & the Lady made desserts, but you MUST check out these options. Li Hing Apple Pie, Pecan Pie, and Kabocha Crinkle Cookies?! Can I order these for me and only me?
If you want to really support local (which I am SO, so for), Sweet Revenge Honolulu has some amazing pie options. From traditional pies like Vanilla Bean Custard and Pumpkin, to fancier pies like Sweet Potato and Pecan, to really creative flavors like Apple Cranberry Crumb and French Apple Custard w/ Almonds! Oh, how do you even pick one?! And to top it off, they even offer Cheese Puffs, Butter Rolls, and a Mochi Platter. Definitely keep them in mind.
Don't @ me. I would maybe choose pumpkin crunch (sans nuts) over any other dessert. Check out Pipeline Bakery's 9″ Pumpkin Crunch Pie for Thanksgiving Dinner. If not, maybe some Pumpkin Cake Bombs?
I feel like people skip over this, but Honu Bakery actually serves up some amazing desserts. I hear their Kabocha Pumpkin Pie, which is only available the week of Thanksgiving, is absolutely delicious!
How about something simpler and smaller? Ono2Guys sells lovely cupcakes among other sweets and treats, and will even have a Thanksgiving Deal going on! 4 cupcakes will only be $5! I'm a sucker for a good chocolate cupcake~
Want it fast and want it done? Napoleon's Bakery at Zippy's Restaurants is always there for you. From Pumpkin Chiffon Pie, to Pumpkin Cheesecake, to Pumpkin Bread Pudding and.. The list goes on. They've got it all!
Okay, I think that's it for now folks. There are definitely a bunch more options, just seek and you will find. I thought it might make your life a bit easier if I did some of the work and found a few fitting options for you, so I hope one of these makes your stomach grumble! Shoutout to all these establishments for tackling Thanksgiving dinner, and adding a pinch of local flavor into everything they make! Happy Turkey Day!
xo, Kris